130-year-old Harvard Law Review elects its first black woman president, ImeIme Umana
ImeIme Umana
The Harvard Law Review in it's 130 years of existence had never elected a black woman as president. But ImeIme Umana has changed that history!
First African American woman to hold post Of Harvard Law Review President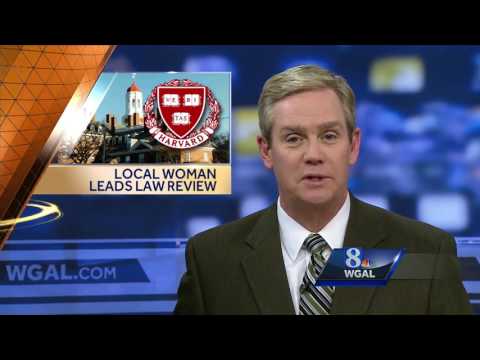 ImeIme Umana, 24,Born in State College, Pa., Ms. Umana graduated from Susquehanna Township High School in Harrisburg, where her father, who died in 2010, was a statistician for the state. She is a 2014 graduate of Harvard College, where she majored in government and African-American studies.
ImeIme Umana is the first African-American woman to lead a journal that has the largest reach of any law journal in the whole world. Umana election was a long time coming.
Harvard Law Review elects first black woman president in its 130-year history
 BARACK OBAMA
That former President Barack Obama was elected by the Review as its first black man as president 27 years ago, he is among the 14 of the most successful Harvard law school alumni of all time. Obama in 2008 cemented his place in history as the first black president of the United states of America. Obama graduated from law school in 1991, ans spent years practicing civil rights law and also teaching at the university of Chicago and later run for public office. He also serve on the Illinois state senate for eight years, and was later elected to the US senate in 2004 
The Review has had other minorities as presidents. Though it has had female presidents, the first was elected 41 years ago. But has never a black woman until now. Umana who is a Nigerian was chosen by the Harvard Law Review's 92 student editors in what is widely known as the highest-ranked position that a student can have at the cut-throat law school.
The election process is very difficult as it required a thorough dissection of her work and also application, and it involve a 12-hour long deliberation of her portfolio.
ImeIme Umana the daughter of Nigerian immigrants, grew up in
Harrisburg, Pennsylvania. Umana is a joint degree candidate at Harvard Law School and the Harvard Kennedy School of Government.
She interned with the public defender's office in the Bronx last summer, and wants to serve as a public defender.
 Umana told the Harvard Crimson, the school's newspaper that "I didn't realize [civics] could be so personal and so alive for a lot of the students,"and that  "It taught me sensitivity in teaching but it also taught me, like the public defender's service, to not assume certain backgrounds, certain reactions, certain lived experiences."
Umana tenure begins next school year.
Ms. Umana talks of her race and gender. She talk of the black women that in recent years died after encounters with law enforcement, she said;
"I'm constantly reminded of people like Natasha McKenna and Tanisha Anderson and Sandra Bland, whose relationships with the law were just simply tragic." 
Ms. Umana
When ask why it take so long to elect a black woman?
Ms. Umana said that the lag reflects a wide gulf between black women and law school. And also that in the law profession minorities have historically been underrepresented.
However, she hope to represent the marginalized women. "I can't help but think of the multitude of young black women who will never be anywhere near such an amount of privilege," she said.
she is dedicating her tenure to those women, especially those who had died.
"I'm especially humbled," she said, "to serve as the first black woman president of the law review because of them."
Some of Ms. Umana's goals as president of the review are to recruit a different set of editors, publish a diverse group of authors, also to basically get out of the editors' way.
After graduation, She has also lined up a clerkship for next year with Judge Robert L. Wilkins of the United States Court of Appeals for the District of Columbia Circuit. And afterword, planing to becoming a public defender.
We have other African-Americans that has distinguish themselves in their various fields of endeavors such as;
Youngest African-American female doctor
Ava Roberts (23) is right now the youngest first African-American female doctor in the world! Though word of this accomplishment has regrettably been minimal, French site Pelea reports that "after a gifted childhood, Roberts quickly excelled through medical school and became a force to be reckoned with as the youngest African-American female doctor." Such an amazing young age, considering how long doctors go to school?! Must have been a child prodigy! You go girl! Such a great role model to young women everywhere! for being the youngest African-American female doctor.
The First Black Doctor In History  James McCune Smith
The first black doctor in history was James McCune Smith. He couldn't go to medical school in New York, so James McCune Smith went to Scotland for his degree and returned home to treat the city's poor.
The degree he earned in 1837 made him the nation's first professionally trained African-American doctor. He set up a medical practice in lower Manhattan and became the resident physician at an orphanage and was the first African-American to own and operate a pharmacy in the United States.