Experts In The UK Reveal How Roast Potatoes, Toast And Hot Chips Might Lead To Cancer
Acrylamide In Food
A UK government body has warn against the roasting and frying starchy foods because could increase the risk of cancer.
The Food Standards Agency in the UK on Monday launched a campaign to warn about the risks of cancer which is linked to eating over-roasted potatoes, burnt toast and other starchy foods cooked at high temperatures level (above 120C)..
This campaign is been based on longstanding evidence from the studies of animal in 2002, however the link is yet to be proved in human studies. Also experts have highlighted that other lifestyle factors such as smoking and obesity pose much greater cancer risks.
The main problem with these overcooked starchy foods as revealed in earlier mouse studies is the high levels of a compound that is known as  acrylamide  which lead to an increased risk of cancer.
So, acrylamide is actually what makes bread and potatoes to turn golden in color when baked, toasted, roasted or fried. There is a compound formation from simple sugars, such as glucose when it react with an amino acid, known as asparagine, which results when these foods are cooked at temperatures above 120 degrees Celsius. Actually Asparagine is found naturally in starchy foods.
And when cooked for a long time, these foods turn from golden to brown and eventually black. They produce higher levels of acrylamide  which increases the risk of cancer, as highlighted by the The Food Standards Agency campaign, called "Go for Gold."
Pure CBD Oil, Miracle Drop, Free Trial Bottle
 What is acrylamide?
This a odorless, colorless, toxic crystalline compound, C 3 H 5 NO, alcohol, soluble in water and acetone that is used in the synthesis of polyacrylamide and other organic materials, as textile fibers, in the processing of ore, and in the treatment of sewage. 
And they are also found in consumer products, such as food packaging, caulking and some adhesives. There are traces amounts of acrylamide which generally remain in these products.
Acrylamide In Food Can Cause Cancer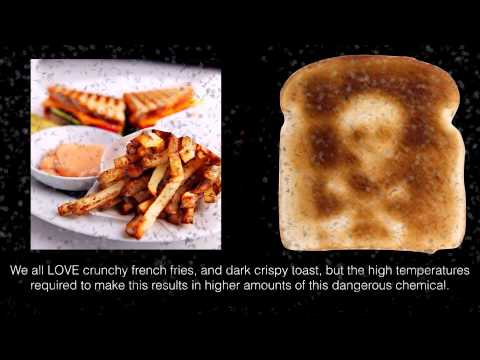 The new campaign is educating people how they can cut their risk, by opting for a gold colour — rather than darker brown — when roasting, frying, baking, grilling or toasting.
Acrylamide is found in a much high levels in a range of foods including chips, breakfast cereals (not porridge), potato products (such as children's potato shapes or waffles ), crackers, biscuits, crisps and crispbread.
And this acrylamide is also found in cooked pizza bases,coffee, cereal-based baby foods and black olives.
While root vegetables including sweet potatoes, potatoes, beetroot, swede, turnip and parsnips can carry high levels of the compound as soon as they have been fried or roasted until darker brown or crispy.
Also long cooking times and high temperatures can increase levels of acrylamide.
Foods such as crisps and skinny fries appear to have the highest levels. Please not that acrylamide is form due to a chemical reaction between amino acid (asparagine) and certain sugars in the food. 
But boiling, microwaving and steaming appear far less likely to cause the reaction.
Recent studies in mice have shown that high levels of acrylamide in the body can cause cancer and neurological damage.
Experts believe the compound has the ability to cause cancer in humans, even though research in humans have proved inconclusive.
The US Environmental Protection Agency said that acrylamide is "likely to be carcinogenic to humans" and also the International Agency for Research on Cancer (IARC), part of the World Health Organisation, said that it is a "probable human carcinogen".
The Food Standards Agency, in its new campaign said people can take simple steps to reduce acrylamide consumption in in their food.
As a "rule of thumb", they advise people to aim for a golden yellow colour or lighter when roasting, frying, baking or toasting starchy foods.
People should also stick to a varied, balanced diet to reduce their overall risk of cancer.